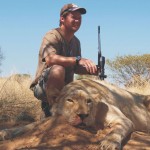 My name is Tamás Gémesi and I am a taxidermist. I have been working in this profession for over 20 years, and I have been operating my business since 1997.
My workshop started with a small staff, but due to the increasing number of customers it has become a bigger manufacture  with 12 constant workers. The workshop grew with a 200m2 preparation department in 2006. I am waiting for my old and new customers kindly to our exhibition and conference room.
I continually develop my professional knowledge at national and foreign exhibitions where my colleagues accompany me.
During my work I try to use the best raw materials from abroad, and I am a retailer of them as well. I require my colleagues to be accurate and to pay attention to their work.
My preparation palette is rich and diverse: it expands from the Hungarian and African trophies to the reptiles and trophy copies which are made with an individual technology. Our business deals with the selling of trophies as well. I like taking part in huntings with customers and friends.
I transport the trophies and ready-made preparations free, and I take over the arrived trophies at an arranged place. I receive your order by e-mail or by phone, and I can send the ready product by post.
I am waiting for your order!